Synthelia Organics is really glad to support IMDEA Nanoscience Institute in the development of an innovative diagnostic test for the SARS-CoV-2 Coronavirus. The successful development of this test would allow high sensitivity tests to be carried out without the need for expensive laboratory instruments and reagents, as is the case with tests based on quantitative PCR and which also require personnel specifically trained in these techniques and a relatively long time to provide results.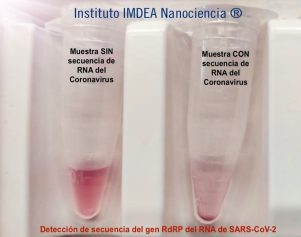 The colorimetric test, after sample preparation and RNA extraction, could be easily performed by any doctor or nurse in less time and cost, without the need for special equipment, but with proven reliability, which can be very effective since infected patients can transmit the disease even without obvious symptoms.
Since 2018 Synthelia Organics is immersed in the nanoparticles field and the sensor for this test will be based on gold nanoparticles, which is capable of detecting the specific sequence of the RdRP gene present in SARS-CoV-2. The test is basically a vial with a reddish watery solution that in the presence of coronavirus RNA causes an aggregation of gold nanoparticles functionalized with oligonucleotides that precipitate producing a clear decrease in the color of the solution that can be seen with the naked eye.
If you want to know more about this important collaboration please go to http://nanociencia.imdea.org/home-en/news/item/imdea-nanociencia-desarrolla-un-innovador-test and get all the information.